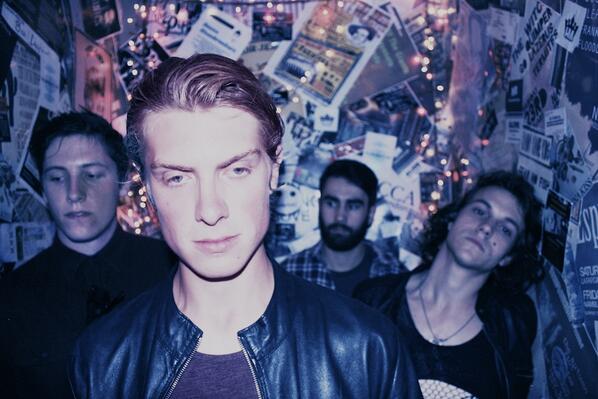 Stags are based in London and kindly answered some questions about their influences, the multi-national fabric of the group and how they went about recording their two latest tracks; Stealing My Heart and Love Will Delay.
Who is who in Stags and what are you about?
– Stags are Christopher Finney (Vocals), Alessio Pesaresi (Guitars), Oisin Walsh (Bass) and George Vallack (Drums). We're a bunch of young lads who had the luck to meet each other in a students dorm three years back and kept it like that since.
I hear you're a multi-national group. What benefits (if any) do you think this brings to a band?
– Well it doesn't feel like we're a multi-national group at all really, we've been friends for a while now and it feels more like just playing with friends wherever they're from, we benefit more from our friendship than from our being from different places. 
Who are your main influences to your music? How do you incorporate them into your sound?
– Personally I'm influenced by anything I hear, even though I grew up listening to a lot of 70's hard rock bands and 90's grunge and I think that's something you can really grasp when you listen to us. Chris has very different influences from mine, growing up in North England he listened to a lot of British pop/rock bands back then, still we both love the good old Blues and a lot of 70's stuff like The Doors, The Stones, John Lennon, Led Zepp etc.
Love Will Delay is a fantastic zoned out yet in your face track. What were you aiming for with it musically and lyrically?
– Glad you like the track. We weren't particularly aiming for anything, Love Will Delay is the result of two different progressions i had been jamming on my guitar for over a year, when I realized they worked perfectly together the song was there. So when I showed it to Chris he already had some of his lyrics in mind and we started jamming it for a while – which means we would get back home after a night out or a gig and jam on that song in my bedroom till morning – until we decided it was time to bring it to the practice room and get it out there. We weren't aiming for anything but being and sounding like ourselves. 
There are a lot of very prominent sounds to your music. With this in mind, how do you record your tunes? As a group or in parts?
– We had the luck to meet the international producer Murillo Sguillaro – producer of "Stealing My Hear / Love Will Delay", last year when he spotted us at a gig, since then we kind of became good friends and we decided to make a record together. We focused a lot more on the pre production than we did with on our first EP "Emotional No", bearing in mind that once recorded the material would stay as it is. We figured out that we wanted these studio tracks to keep the feel that they have when we play them live so we recorded drums and bass live and the guitars and vocals sounds were kept as they were post production. 
What's the general reaction been like to your music?
– Hope they like it!
What's the best venue you've played at? Is there anywhere you're setting your sight on too
– Best venue we played in terms of cool places to play at would be The Cavern Club in Liverpool I guess.
Any advice for new and upcoming bands?
– Keep it up!
What's next for Stags?
– We have a last showcase next weekend and then we're talking about planning a European tour for 2014. We have a lot of new material to work on so hopefully we will bring out a new release next year.
Thankyou Stags for their answers and insight!